The 2022 Subaru Love Promise Customer and Community Commitment Award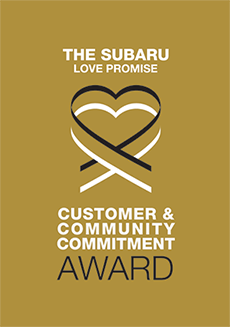 We've been nationally recognized for our dedication to our customers, our community, and the Subaru Love Promise.
We're honored to receive the 2022 Subaru Love Promise Customer and Community Commitment Award. This award nationally recognizes elite Subaru retailers who provide an exceptional customer experience at every interaction with Subaru. These retailers have also demonstrated an outstanding commitment to supporting passions and causes in their local communities in important areas such as the environment, community, health, education, and pets.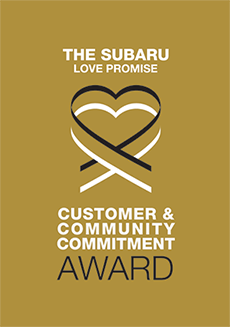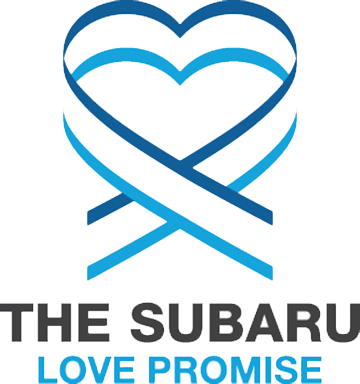 What is the Subaru Love Promise?
Subaru and our retailers believe in making the world a better place and the Subaru Love Promise is our vision of respecting all people. This is our commitment to show love and respect to our customers and to work to make a positive impact in the world.
How is Annapolis Subaru dedicated locally to the Love Promise?
At Annapolis Subaru, our Love Promise to the Annapolis area can be seen in our proud support and sponsorship of many of our great local organizations. We're grateful not only to be a part of the Annapolis community, but to serve it as well.
SPCA of Anne Arundel County
Chesapeake Bay Foundation, Chesapeake Bay Trust, Barrels By The Bay
Annapolis Maritime Museum & Park
Anne Arundel Medical Center, Believe In Tomorrow, Lighthouse Shelter
AAMC Blood Donor Center, Anne Arundel Medical Center, Cystic Fibrosis Foundation
Love Promise Stories from Annapolis Subaru
Subaru and Annapolis Subaru believe in making a positive impact on the communities in which we live and work. We uphold that belief through our Love Promise Community Commitment. Every month, we select inspiring stories from customers and partners from around our area who strive to support our collective commitment and feature them here
Annapolis Subaru shares love in Baltimore City - Debby P
Annapolis Subaru has once again proven that they not only sell the best product, but their employees are caring and dedicated to neighboring communities as well. As a Baltimore City teacher, we see the impact that poverty has on our scholars, going beyond academia. Recently I received a call from our school secretary in need of additional school supplies, food items, and personal hygiene products for a local festival she champions, 'Safe Street'. I called Annapolis Subaru to see if they would be open to supporting our request, albeit it was last minute. I made a call and email to Billy Sadtler, who in turn immediately contacted Michelle Eichhorn, who instantly contacted me who then became my point of contact. Within three days, Annapolis Subaru, had delivered to our school, an abundance of folders, glue, socks, soap, cereal, pencil cases and toothbrushes! Although the festival was delayed a week due to weather, "Safe Street" was a success due in part to the generous donations that Annapolis Subaru and other passionate supporters gave. Alleviating one stressor for these inner-city families, whereas they would not be able to afford, is most greatly appreciated. The effects of the pandemic have been felt worldwide. Our scholars and their families have not been immune from tragedy either. Many of our Curtis Bay families experienced family death, loss of jobs, hunger, as well as homelessness. We have four families placed with CPS and one family with DHS. Many of our families are non-English speakers, with 10 scholars starting school for the first time that are over the age of six. My words cannot fully express the gratitude I have toward the Annapolis Subaru family for their selfless and generous support to our Baltimore City families. I am proud to be a Subaru owner, but am more thankful to be part of such a passionate and caring group of individuals at Annapolis Subaru.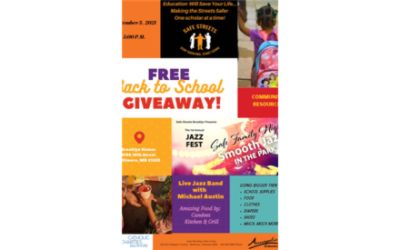 ---
Most amazing car dealership experience ever! - EDITH C
I am 70 years old and have been in and out of many, many car dealerships. It has always been an experience I dread. In fact, I usually make sure I bring a "guy" with me so I won't be taken advantage of! So, when the lease on my Hyundai was very close to being up, I was going to go the easiest path and just lease another Hyundai. But I honestly couldn't face that particular dealership again! I was also hesitant to hang around the hours it usually takes to get a new car because of Covid.. But from the first phone call and meeting with the dealer rep to the test drive and up til the very end of the process I was completely comfortable. Everyone was friendly, not pushy, informative and just made the whole thing an amazing experience. I was stunned at how easy and hassle-free getting a new car can actually be. I will never go anywhere else to get a new vehicle and I will never drive anything but a Subaru again! Thank you Annapolis Subaru!!
---
Always Involved! - Mike D
Annapolis Subaru is known for participation in almost every fundraising event, actively giving back to the community and donating their time to make Annapolis area an even better place to live and work. Not only are they providing great vehicles, and service to Marylanders they really are great company that cares and gives back to the community.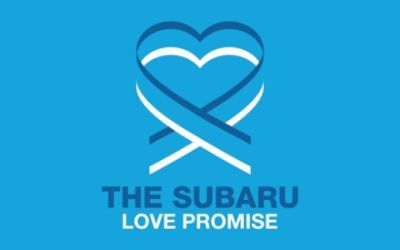 ---
Annapolis Subaru Loves the Arts - Joann V
If a picture is worth a 1000 words, then volumes should written about Annapolis Subaru's support of Maryland Federation of Art (MFA). For more than 20 years, Annapolis Subaru has been a major reason of why this 58-year-old visual arts nonprofit is so successful at achieving its mission of connecting the community through art. MFA's success in the community, especially the well regarded plein air festival Paint Annapolis, is due not only to the funding provided by Annapolis Subaru - but also to the believe that Subaru has in the ability of small organization to improve the community. And MFA believes is Subaru - 100% of the current employees drive a Subaru! For years, Annapolis Subaru hosted MFA's major fundraiser, Collector's Choice, a fast fun art lottery that directly connects artists with art collectors. In preparation 300 artists and patrons in attendance, Subaru cleared all the cars out of their showroom, provided direct monetary support for the event and staff - and their children - stayed to help clean up after the event. Then, when MFA became the hosting organization for Paint Annapolis, Annapolis Subaru jumped right in with the funding to make this event possible - and their people supported us through every step of building one of the. most important outdoor painting events on the East Coast. As a small nonprofit, MFA cannot do what it does without significant community support - and Annapolis Subaru has been there every step of the way - with heart for the arts. That's how Annapolis Subaru loves the Arts - and the Arts loves Subaru right back.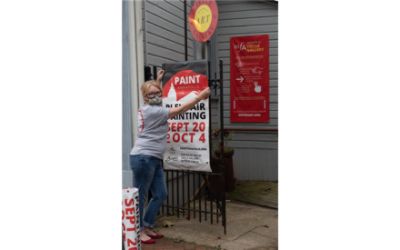 ---
Make a Dog's (or Kitten's) Day - Kristen N
How many shelters have heard this story? A kind person hears a timid cry under a bush and investigates to find frightened kittens, huddling together for warmth and comfort, all alone in the world. The Good Samaritan then turns to their local shelter, confident that these homeless and tiny kittens will be in good hands. Bosco and Bart started life as these two lost little kittens but have now found their way home. Through our partnership with Annapolis Subaru, the SPCA of Anne Arundel County was able to provide the veterinary care to help them grow into the handsome and happy cats they are today. The brothers have been adopted into a loving family and will never spend another night alone. We thank Annapolis Subaru for making happy endings such as Bosco and Bart's a reality and definitely agree… Subaru loves pets!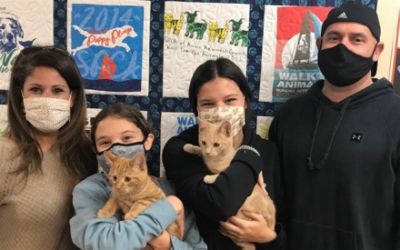 ---
Best Experience Ever! - John and Frances R
Hands down, best car purchase experience we have ever had! We are thankful to the whole team at Annapolis Subaru for the excellent service we received. From the general manager to the sales person, everyone we spoke with was knowledgeable, professional and friendly. Buying a car from other dealers has been extremely stressful for us in the past, but our recent purchase of a 2020 Ascent was as easy as can be. They also did a great job at making us feel safe and comfortable in spite of the Covid situation. We are first-time Subaru owners who came for the car and will stay for the great service.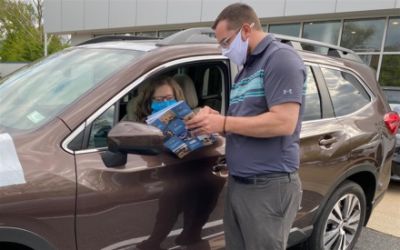 ---
Gratitude for Share the Love and Annapolis Subaru - Maren B
We are exceptionally fortunate and grateful to have the amazing family of employees at Annapolis Subaru as loyal and generous supporters of the Cystic Fibrosis Foundation for many years. From the beginning of our partnership, they took the time to allow us to educate them on the importance of their support with regard to advancing research and patient care, the careful manner in which we would steward their dollars and introduced them to members of our community who could share firsthand how their unwavering support has impacted and changed their lives, and that of those who love and care for them. We are on the cusp of a new era in cystic fibrosis. In just the last year, the FDA approved Trikafta, a drug that will treat people with CF ages 12 and older who have at least one copy of the most common CF mutation. More than 90% of people with CF could have a highly effective therapy for the underlying cause of their disease. The CF Foundation also launched its Path to a Cure research agenda with $500 million in order to accelerate the pace of progress in drug discovery and development, and ultimately a cure for all people with CF. These types of bold visions and breakthroughs could not be possible without the loyal and generous support of partners like Annapolis Subaru. This Subaru Share the Love campaign was not their first partnership with our organization. They have demonstrated leadership in our community and involved their vendors, employees, and customers in taking their lead and getting involved. As soon as the campaign kicked off, they invited a CF ambassador to their dealership. Jen McKinnon, an adult, wife, mother, daughter, sibling, entrepreneur, friend and outspoken advocate of the Cystic Fibrosis Foundation, visited during a dealership meeting to speak to the sales team. She shared with them her story, her challenges, both health and otherwise, and her successes. She recounted the number of therapies she goes through in a 24 hour period when she is well to maintain her status quo, and she showed them photos of the numerous times she has been hospitalized for her disease, as well as uncertain days she's faced throughout her 40 years. She shared that when she was born, her parents were advised to take her home, love her, comfort her, as she would have a painfully short time to live. She reported that her family would not take that diagnosis lying down, and immediately sought out the CF Foundation to see what they could do to help fundraise for the cause that could help their daughter live. With the help of her exceptional medical care team, and supportive family, and corporate partners and advocates like Annapolis Subaru, Jen is about to celebrate her 41st birthday! Jen is happily married and has two beautiful twin daughters. Each of her daughters wrote a special note to the Annapolis Subaru family and customers. "Dear Friends, Thank you for all you have done for the CFF. Your hard work is paying off and I thank you for that. All these drugs have helped my mom so much, she has a better life now because of Trikafta. Love always, Stella, 9" "Dear Volunteers, Thank you for helping my mom. Trikafta is the best thing ever. It changed my mom's life. You rock! Keep up the good work! From, Teagan, 9" The sales team had a deeper understanding of CF, and how that impacts a family in their community. They were able to take that knowledge when speaking to customers about the dealership's selection of the Cystic Fibrosis Foundation as their hometown charity. Annapolis Subaru invited the local CF community to set up a table on Saturdays during the campaign and put up feather banners with ambassador photos, share information about the disease, the Foundation, and take away materials to continue the awareness. They engaged with customers, and everyone was happy and fulfilled to connect. The success of this campaign is in every way related to the commitment of Annapolis Subaru to the community it serves. They are true partners in many causes, but we are most grateful to their commitment to the Cystic Fibrosis Foundation for the years that have seen so much progress. Their continued resolve and dedication to our shared mission of leaving no stone unturned, helping us to raise the necessary dollars to fund the science that we believe holds real promise to address every CF mutation. Together, we will work to ensure that all people with CF can live full and healthy lives and have hope for the future. We are stronger together! #UntilItsDone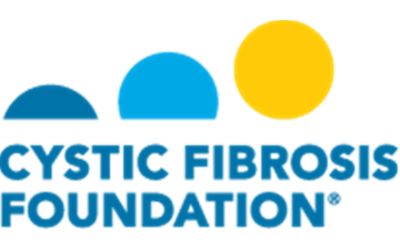 ---
Annapolis Subaru Helps MDSC give back - austin j
Annapolis Subaru hosted a food drive for our local group (Maryland Subaru Club) where we gathered over 6000lbs of canned and dry goods that benefited the surrounding community. If it weren't for the love and support of them, none of this would have been possible. Every day people go hungry and we are all thankful Annapolis Subaru was willing to open their business to us and help feed families in need.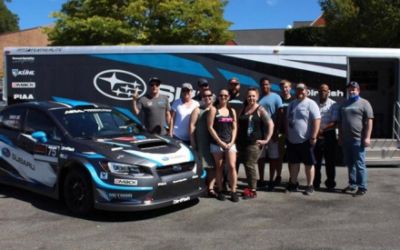 ---
Chesapeake Classrooms--Learning to Save the Bay! - John R
Annapolis Subaru LOVES the Chesapeake Bay and its teachers! Thank you Annapolis Subaru for supporting CBF's Chesapeake Classrooms program! Here at CBF, we are grateful for your commitment to the Bay and the teachers who are educating the next generation of Bay stewards. Support from Annapolis Subaru helps CBF educators to engage, educate, and inspire thousands of students, teachers through hands-on environmental education. Recently, Bill Sadtler (GM of Annapolis Subaru) got knee deep in the experience by joining our educators and teachers for a portion of a Chesapeake Classrooms course-- The Art Lens: A Bay Perspective for Anne Arundel County teachers. Traveling with these teachers in the marshes of Smith Island was was a chance for us to show how life changing these professional development experiences are for teachers. Thank You Annapolis Subaru! To learn more about professional development opportunities specifically designed for teachers, principals, and superintendents please go to www.cbf.org/chesapeakeclassrooms Save the Bay!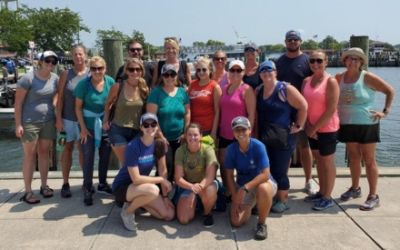 ---
Annapolis Subaru Delivers Warmth to AAMC Patients - Jillian J
On Monday, July 8th, The Leukemia & Lymphoma Society's (LLS) Maryland Chapter and Annapolis Subaru had the pleasure of delivering 80 blankets to the DeCesaris Cancer Institute as part of the Subaru Loves To Care program. These comforting gifts were accompanied by personalized messages of hope written by the customers and staff of Annapolis Subaru.Representatives from Annapolis Subaru, the DeCesaris Cancer Institute at Anne Arundel Medical Center, and the Maryland Chapter of The Leukemia & Lymphoma Society were all present during the blanket delivery, in addition to several blood cancer survivors and former AAMC patients. This incredible act of generosity was warmly received by AAMC's Donor Relations Coordinator, Emily Summa, in the lobby of the DeCesaris Institute before the hospital staff distributed the comforting gifts to their patients. LLS is proud to partner with Subaru to spread hope, love and warmth to those fighting cancer, across the country and right here in the Annapolis community.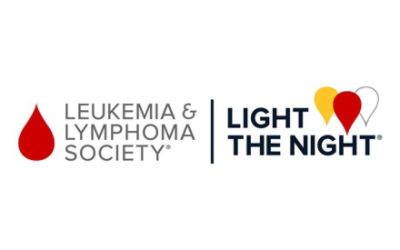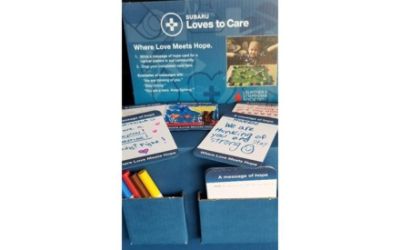 ---