The 2021 Subaru Love Promise Customer and Community Commitment Award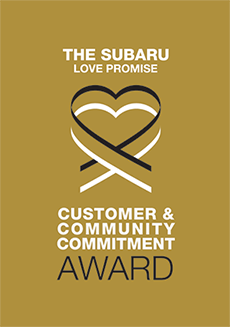 We've been nationally recognized for our dedication to our customers, our community, and the Subaru Love Promise.
We're honored to receive the 2021 Subaru Love Promise Customer and Community Commitment Award. This award nationally recognizes elite Subaru retailers who provide an exceptional customer experience at every interaction with Subaru. These retailers have also demonstrated an outstanding commitment to supporting passions and causes in their local communities in important areas such as the environment, community, health, education, and pets.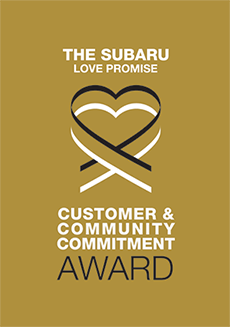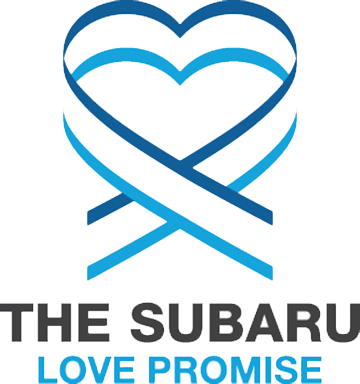 What is the Subaru Love Promise?
Subaru and our retailers believe in making the world a better place and the Subaru Love Promise is our vision of respecting all people. This is our commitment to show love and respect to our customers and to work to make a positive impact in the world.
How is Annapolis Subaru dedicated locally to the Love Promise?
At Annapolis Subaru, our Love Promise to the Annapolis area can be seen in our proud support and sponsorship of many of our great local organizations. We're grateful not only to be a part of the Annapolis community, but to serve it as well.
SPCA of Anne Arundel County
Chesapeake Bay Foundation, Chesapeake Bay Trust, Barrels By The Bay
YMCA Camp Letts, Olivia Constants Foundation, Lighthouse Shelter
AAMC Blood Donor Center, Anne Arundel Medical Center
Love Promise Stories from Annapolis Subaru
Subaru and Annapolis Subaru believe in making a positive impact on the communities in which we live and work. We uphold that belief through our Love Promise Community Commitment. Every month, we select inspiring stories from customers and partners from around our area who strive to support our collective commitment and feature them here
Most amazing car dealership experience ever! - EDITH C
I am 70 years old and have been in and out of many, many car dealerships. It has always been an experience I dread. In fact, I usually make sure I bring a "guy" with me so I won't be taken advantage of! So, when the lease on my Hyundai was very close to being up, I was going to go the easiest path and just lease another Hyundai. But I honestly couldn't face that particular dealership again! I was also hesitant to hang around the hours it usually takes to get a new car because of Covid.. But from the first phone call and meeting with the dealer rep to the test drive and up til the very end of the process I was completely comfortable. Everyone was friendly, not pushy, informative and just made the whole thing an amazing experience. I was stunned at how easy and hassle-free getting a new car can actually be. I will never go anywhere else to get a new vehicle and I will never drive anything but a Subaru again! Thank you Annapolis Subaru!!
---
Always Involved! - Mike D
Annapolis Subaru is known for participation in almost every fundraising event, actively giving back to the community and donating their time to make Annapolis area an even better place to live and work. Not only are they providing great vehicles, and service to Marylanders they really are great company that cares and gives back to the community.
---
Annapolis Subaru Loves the Arts - Joann V
If a picture is worth a 1000 words, then volumes should written about Annapolis Subaru's support of Maryland Federation of Art (MFA). For more than 20 years, Annapolis Subaru has been a major reason of why this 58-year-old visual arts nonprofit is so successful at achieving its mission of connecting the community through art. MFA's success in the community, especially the well regarded plein air festival Paint Annapolis, is due not only to the funding provided by Annapolis Subaru - but also to the believe that Subaru has in the ability of small organization to improve the community. And MFA believes is Subaru - 100% of the current employees drive a Subaru! For years, Annapolis Subaru hosted MFA's major fundraiser, Collector's Choice, a fast fun art lottery that directly connects artists with art collectors. In preparation 300 artists and patrons in attendance, Subaru cleared all the cars out of their showroom, provided direct monetary support for the event and staff - and their children - stayed to help clean up after the event. Then, when MFA became the hosting organization for Paint Annapolis, Annapolis Subaru jumped right in with the funding to make this event possible - and their people supported us through every step of building one of the. most important outdoor painting events on the East Coast. As a small nonprofit, MFA cannot do what it does without significant community support - and Annapolis Subaru has been there every step of the way - with heart for the arts. That's how Annapolis Subaru loves the Arts - and the Arts loves Subaru right back.
---
Make a Dog's (or Kitten's) Day - Kristen N
How many shelters have heard this story? A kind person hears a timid cry under a bush and investigates to find frightened kittens, huddling together for warmth and comfort, all alone in the world. The Good Samaritan then turns to their local shelter, confident that these homeless and tiny kittens will be in good hands. Bosco and Bart started life as these two lost little kittens but have now found their way home. Through our partnership with Annapolis Subaru, the SPCA of Anne Arundel County was able to provide the veterinary care to help them grow into the handsome and happy cats they are today. The brothers have been adopted into a loving family and will never spend another night alone. We thank Annapolis Subaru for making happy endings such as Bosco and Bart's a reality and definitely agree… Subaru loves pets!
---
Best Experience Ever! - John and Frances R
Hands down, best car purchase experience we have ever had! We are thankful to the whole team at Annapolis Subaru for the excellent service we received. From the general manager to the sales person, everyone we spoke with was knowledgeable, professional and friendly. Buying a car from other dealers has been extremely stressful for us in the past, but our recent purchase of a 2020 Ascent was as easy as can be. They also did a great job at making us feel safe and comfortable in spite of the Covid situation. We are first-time Subaru owners who came for the car and will stay for the great service.
---
Gratitude for Share the Love and Annapolis Subaru - Maren B
We are exceptionally fortunate and grateful to have the amazing family of employees at Annapolis Subaru as loyal and generous supporters of the Cystic Fibrosis Foundation for many years. From the beginning of our partnership, they took the time to allow us to educate them on the importance of their support with regard to advancing research and patient care, the careful manner in which we would steward their dollars and introduced them to members of our community who could share firsthand how their unwavering support has impacted and changed their lives, and that of those who love and care for them. We are on the cusp of a new era in cystic fibrosis. In just the last year, the FDA approved Trikafta, a drug that will treat people with CF ages 12 and older who have at least one copy of the most common CF mutation. More than 90% of people with CF could have a highly effective therapy for the underlying cause of their disease. The CF Foundation also launched its Path to a Cure research agenda with $500 million in order to accelerate the pace of progress in drug discovery and development, and ultimately a cure for all people with CF. These types of bold visions and breakthroughs could not be possible without the loyal and generous support of partners like Annapolis Subaru. This Subaru Share the Love campaign was not their first partnership with our organization. They have demonstrated leadership in our community and involved their vendors, employees, and customers in taking their lead and getting involved. As soon as the campaign kicked off, they invited a CF ambassador to their dealership. Jen McKinnon, an adult, wife, mother, daughter, sibling, entrepreneur, friend and outspoken advocate of the Cystic Fibrosis Foundation, visited during a dealership meeting to speak to the sales team. She shared with them her story, her challenges, both health and otherwise, and her successes. She recounted the number of therapies she goes through in a 24 hour period when she is well to maintain her status quo, and she showed them photos of the numerous times she has been hospitalized for her disease, as well as uncertain days she's faced throughout her 40 years. She shared that when she was born, her parents were advised to take her home, love her, comfort her, as she would have a painfully short time to live. She reported that her family would not take that diagnosis lying down, and immediately sought out the CF Foundation to see what they could do to help fundraise for the cause that could help their daughter live. With the help of her exceptional medical care team, and supportive family, and corporate partners and advocates like Annapolis Subaru, Jen is about to celebrate her 41st birthday! Jen is happily married and has two beautiful twin daughters. Each of her daughters wrote a special note to the Annapolis Subaru family and customers. "Dear Friends, Thank you for all you have done for the CFF. Your hard work is paying off and I thank you for that. All these drugs have helped my mom so much, she has a better life now because of Trikafta. Love always, Stella, 9" "Dear Volunteers, Thank you for helping my mom. Trikafta is the best thing ever. It changed my mom's life. You rock! Keep up the good work! From, Teagan, 9" The sales team had a deeper understanding of CF, and how that impacts a family in their community. They were able to take that knowledge when speaking to customers about the dealership's selection of the Cystic Fibrosis Foundation as their hometown charity. Annapolis Subaru invited the local CF community to set up a table on Saturdays during the campaign and put up feather banners with ambassador photos, share information about the disease, the Foundation, and take away materials to continue the awareness. They engaged with customers, and everyone was happy and fulfilled to connect. The success of this campaign is in every way related to the commitment of Annapolis Subaru to the community it serves. They are true partners in many causes, but we are most grateful to their commitment to the Cystic Fibrosis Foundation for the years that have seen so much progress. Their continued resolve and dedication to our shared mission of leaving no stone unturned, helping us to raise the necessary dollars to fund the science that we believe holds real promise to address every CF mutation. Together, we will work to ensure that all people with CF can live full and healthy lives and have hope for the future. We are stronger together! #UntilItsDone
---
Annapolis Subaru Helps MDSC give back - austin j
Annapolis Subaru hosted a food drive for our local group (Maryland Subaru Club) where we gathered over 6000lbs of canned and dry goods that benefited the surrounding community. If it weren't for the love and support of them, none of this would have been possible. Every day people go hungry and we are all thankful Annapolis Subaru was willing to open their business to us and help feed families in need.
---
Chesapeake Classrooms--Learning to Save the Bay! - John R
Annapolis Subaru LOVES the Chesapeake Bay and its teachers! Thank you Annapolis Subaru for supporting CBF's Chesapeake Classrooms program! Here at CBF, we are grateful for your commitment to the Bay and the teachers who are educating the next generation of Bay stewards. Support from Annapolis Subaru helps CBF educators to engage, educate, and inspire thousands of students, teachers through hands-on environmental education. Recently, Bill Sadtler (GM of Annapolis Subaru) got knee deep in the experience by joining our educators and teachers for a portion of a Chesapeake Classrooms course-- The Art Lens: A Bay Perspective for Anne Arundel County teachers. Traveling with these teachers in the marshes of Smith Island was was a chance for us to show how life changing these professional development experiences are for teachers. Thank You Annapolis Subaru! To learn more about professional development opportunities specifically designed for teachers, principals, and superintendents please go to www.cbf.org/chesapeakeclassrooms Save the Bay!
---
Annapolis Subaru Delivers Warmth to AAMC Patients - Jillian J
On Monday, July 8th, The Leukemia & Lymphoma Society's (LLS) Maryland Chapter and Annapolis Subaru had the pleasure of delivering 80 blankets to the DeCesaris Cancer Institute as part of the Subaru Loves To Care program. These comforting gifts were accompanied by personalized messages of hope written by the customers and staff of Annapolis Subaru.Representatives from Annapolis Subaru, the DeCesaris Cancer Institute at Anne Arundel Medical Center, and the Maryland Chapter of The Leukemia & Lymphoma Society were all present during the blanket delivery, in addition to several blood cancer survivors and former AAMC patients. This incredible act of generosity was warmly received by AAMC's Donor Relations Coordinator, Emily Summa, in the lobby of the DeCesaris Institute before the hospital staff distributed the comforting gifts to their patients. LLS is proud to partner with Subaru to spread hope, love and warmth to those fighting cancer, across the country and right here in the Annapolis community.
---
YOU help inspire girls... - Susan T
Thank you Annapolis Subaru for your generous sponsorship of our Girls on the Run 5K runs. Its fun for the girls to have your Subaru lead car on the course - makes the event so official! We truly appreciate your support for the 5K as it is the culminating event for our girls, giving them a wonderful opportunity to demonstrate to themselves, their families and their friends how incredibly strong and capable they are. Thank you for helping make such a special day that much more special
---
Warmth & Comfort - Michelle E
Members of the Annapolis Subaru team along with the Leukemia & Lymphoma Society delivered 80 blankets, art & crafts kits and personal messages of support to the DeCesaris Cancer Institute at the Anne Arundel Medical Center in 2018. The group was warmly welcomed by staff members and volunteers who work directly with patients in treatment for various forms of blood cancers and lymphoma.
---
Bands in the Sand - John R
What a night! Thank you for your sponsorship support at the Chesapeake Bay Foundation's 13th annual Bands in the Sand. With our 1,600 guests, we experienced rainbows, cool breezes, and singing in the dark…this was a truly memorable evening for the record books. With your support, we raised over $410,000 towards CBF's programs to protect and restore our beloved Chesapeake Bay. Thanks to you, CBF is:- Launching a partnership to plant 10 billion new oysters in the Bay by 2025.-Partnering with organizations across Pennsylvania to plant 10 million trees in forested buffers.-Inspiring over 35,000 students, teachers and adults through CBF's award-winning environmental education programs.-Working to ensure watershed states meet their pollution-reduction goals.-And so much more! We just want you to know how much we appreciate your commitment to supporting the community and water quality in our region."
---
Annapolis Maritime Museum - MK R
Annapolis Subaru - Thank you for all of your support over the past six years! You have made a direct impact on our growth as a community anchor. You have allowed us to expand our educational programs for youth and adults about the Annapolis area's rich maritime heritage and the ecology of the Chesapeake Bay.
---
Helping a New Neighbor - David G
Just a quick word of appreciation for your service staff and their generous and clear approach. After shipping my car across the country, I discovered a nail in one of the back tires. In a completely new place, in a completely different time zone, it made these first days in the new state more stressful. Your service team was helpful, kind and very clear and timely. And this newcomer really, really appreciated their way!
---
The Bay's Future is Brighter Because of You - William B
Without a doubt, the Bay's future is brighter because of you. Thank you for your kind donation in honor of Alexa Stillwell's through-hike of the Appalachian Trail. This is a wonderful way to pay tribute to her, while helping CBF protect, preserve and restore the Bay and its tributaries for current and future generations. With your help we are making tremendous progress towards saving the Bay: restoring natural filters like trees, reducing polluted runoff, protecting the Bay's wildlife, advocating for clean water policies, and inspiring thousands with hands-on environmental education. Your support helps us to continue these vital programs, which benefit each and every one of the 18 million people who call the watershed home, and for that we are so very grateful. Again, thank you for your support
---
Books and Backpacks, Oh My! - Christina L
Annapolis Subaru provided a wonderful collection of books and backpacks for our students. The books are wonderful with topics that will be of high interest to our students. They will be used for our Birthday Book Club and our mobile library. The backpacks and supplies are always needed. Thanks for your generosity and for thinking of our school. We were in need of new books so the timing was perfect! The donation will support our "Culture of Literacy". The staff & students of Annapolis Elementary School thank you, Annapolis Subaru.
---
Comfort Blankets and Messages presented to AAMC - Sheronda B
The Annapolis Subaru team visited the Anne Arundel Medical Center's DeCesaris Cancer Institute with AAMC Board members and representatives of the Leukemia & Lymphoma Society, Maryland Chapter to present 80 blankets and care cards to keep patients warm while undergoing treatment. Because Leukemia is the most common form of cancer in children, a case of art and craft kits were presented for kids in treatment. Of course, this would not have been possible without the support of our amazing and caring Annapolis Subaru customers. Those that attended this presentation included Jan Wood, AAMC Foundation President and Chief Development Officer, Dr. Barry Meisenberg, Executive Medical Director of AAMC's DeCesaris Cancer Institute, Pat Wergin, AAMC Foundation Board Member and Building Tradition's Society Chair and Annapolis Subaru, VP, Staff from AAMC's DeCesaris Cancer Institute and Infusion Therapy Center, Michelle Eichhorn, Annapolis, and Stephanie Gale, Campaign Manager, The Leukemia & Lymphoma Society – MD. Also, in attendance, a special survivor, LLS volunteer, and AAMC board of trustee, Gary Jobson. In 2003, after years of committed service on behalf of The Leukemia & Lymphoma Society, Jobson was diagnosed with lymphoma and, in his words, "became a beneficiary of the research advances I had helped support." He is now cancer-free and is the National Chairman of the Leukemia Cup Regatta, LLS's sailing program, since 1993.
---
Subaru and NWF Loves the Earth - Catherine H
The students at Mills-Parole Elementary were so happy to have partnered with Subaru and the National Wildlife Federations Garden For Wildlife. We loved planting our garden and learning about how our garden will help the environment. The 4th grade students were involved in planting our beautiful greenery. They also installed the garden elements that will help support and protect the animals that live around our school community. For many of our students this was their first time gardening and birding, and they enjoyed every minute of it. We have even observed many of the animals that have visited our garden such as: butterflies, blue jays, woodpeckers, cardinals, and even frogs! We are so very proud of our garden and have bought supplies with our gift card that will help us continue to build and tend the garden in the future. We would love to win an assembly to learn from wildlife ambassadors and David Mizejewski on how to better care for our garden, and our world, as wildlife ambassadors of the future. "
---
Hometown Charity - Joan M
There are no words to express how appreciative I am to the Annapolis Subaru team for all of the support during The Summit School's time as a hometown charity. We are so grateful that you were able to join us yesterday when we received the BIG check from the Share The Love event! All of the proceeds from the Share The Love Event will benefit our school's scholarship fund. Some of our families rely heavily on tuition assistance in order for their children to be able to attend Summit, an you have helped that effort enormously through your generosity. Thank you again! Sincerely, Joan A. Mele-McCarthy, D.A., CCC-SLP Executive Director
---
Gifts of Comfort - Samantha B
Thank you Annapolis Subaru and the Leukemia & Lymphoma Society for visiting Anne Arundel Medical Center's Geaton and JoAnn DeCesaris Cancer Institute to deliver the beautiful blankets and messages of hope for our patients. Your gift of comfort will be incredibly appreciated by those undergoing treatment. Even more so, our AAMC nurses and staff are always grateful for the opportunity, like the one you provided, to brighten up a patient's day. A heartfelt thanks from all of us here at AAMC to Annapolis Subaru and the Leukemia and Lymphoma Society for your community partnership and support. Included in the group photo along with Billy and Michelle from Annapolis Subaru are some of AAMC's Geaton and JoAnn staff and nurses, including Cathy Copertino, Executive Director of AAMC's DeCesaris Cancer Institute, Dr. Barry Meisenberg, Executive Medical Director of AAMC's DeCesaris Cancer Institute, Lynn Graze, Director Ambulatory Medical Oncology and Jan Wood, President of the Anne Arundel Medical Center Foundation.
---
Subaru Loves Learning Book Drive August 1 - 31 - Danielle S
Join us in our Subaru Loves Learning initiative during the month of August! We are partnering with the American Association for the Advancement of Science (AAAS) in donating science books to Mary Moss Academy and Phoenix Academy in the Anne Arundel County School District. All of the books that will be donated have been recognized by AAAS as some of the best science books in their field. Contact us to learn more information.
---
Annapolis Subaru Fills a Forester with Love - Michele M
The Light House is fortunate to have many generous partners from throughout the community who donate their time, goods and services, as well as support The Light House with financial resources. Each partner plays a significant role in the success of the mission of the Light House on an on-going basis. Annapolis Subaru has partenered with the Light House for catering through the Culinary Arts Program of our Building Employment Success Training (B.E.S.T.) Their willingness to hire the Light House students for these events gives our students an awesome opportunity to experience field work and interact with their community. Most recently Annapolis Subaru reached out to us for a partnership during their "Subaru Loves to Help" month. Our shelter food donations are historically low during the summer months. In an effort to help boost donations, Annapolis Subaru hosted a food drive during the month of June. They challenged their customers and employees to "Fill a Forester" with canned goods and non-perishables. They succeeded in their challenge and to our surprise also made a monetary donation when they dropped off the collected goods. Our partnership with Annapolis Subaru has been invaluable and we look forward to their promise of continued support.
---
Subaru Loves the Earth - E-Waste Event - Danielle S
We would like to thank our customers for participating in our E Waste Recycling event during the month of April. With your help, we were able to prevent 3,118 lbs of carbon emissions from polluting the atmosphere. This is equivalent to saving 120 trees, 531 gallons of gasoline, 4,521 plastic bottles, and 20,792 aluminum cans. Thank you for helping strengthen the Subaru Love Promise!
---
Making Summer Camp Awesome - Andrew M
Our relationship with Annapolis Subaru is by far one of the most positive relationship we have ever had with an organization. They have helped to enhance the experience our Summer Campers, Family Campers and Retreat Center participants have at our facility. Their donation of kayaks and canoes have helped our Campers see the beauty of our waterfront up close and personal. The new gaga ball pit and Frisbee golf course have created new friendships and encouraged play in areas of Camp that we wanted to grow. They helped us save our Zip line when the repairs would have delayed many young campers a huge smile from zooming through the trees. Their financial support has helped hundreds of first time campers get an experience of independence and personal growth through our scholarship program. Our relationship with Annapolis Subaru has helped YMCA Camp Letts to be so much more to our community, and to the children and families we serve. We are forever grateful for their support.
---
April 1-30, 2015 E-Waste Recycling Event - Molly M
Throughout the month of April, we are hosting an E-Waste Recycling Event in our store to collect unwanted electronics. We've arranged to work with a company who will responsibly collect, re-purpose, and recycle your electronic waste. Help us protect our environment. Just show up with your E-Waste and we'll do the rest! The first 50 customers who contribute will receive a complimentary environmental badge of ownership. We will accept: LCD Monitors, Cell Phones, Laptops, Tablets, CRTs up to 40, Video Games/Consoles, Fax Machines, DVD/VCR Players, Printers, Computer Peripherals, Switches/Routers, Cords and Wires.
---